We're excited to announce a significant new feature for Warhorn event organizers: venue support! Event staff can now enter addresses and phone numbers for venues where event activities will be held. The event schedule groups activities by venue and allows users to view venue details and maps. For example: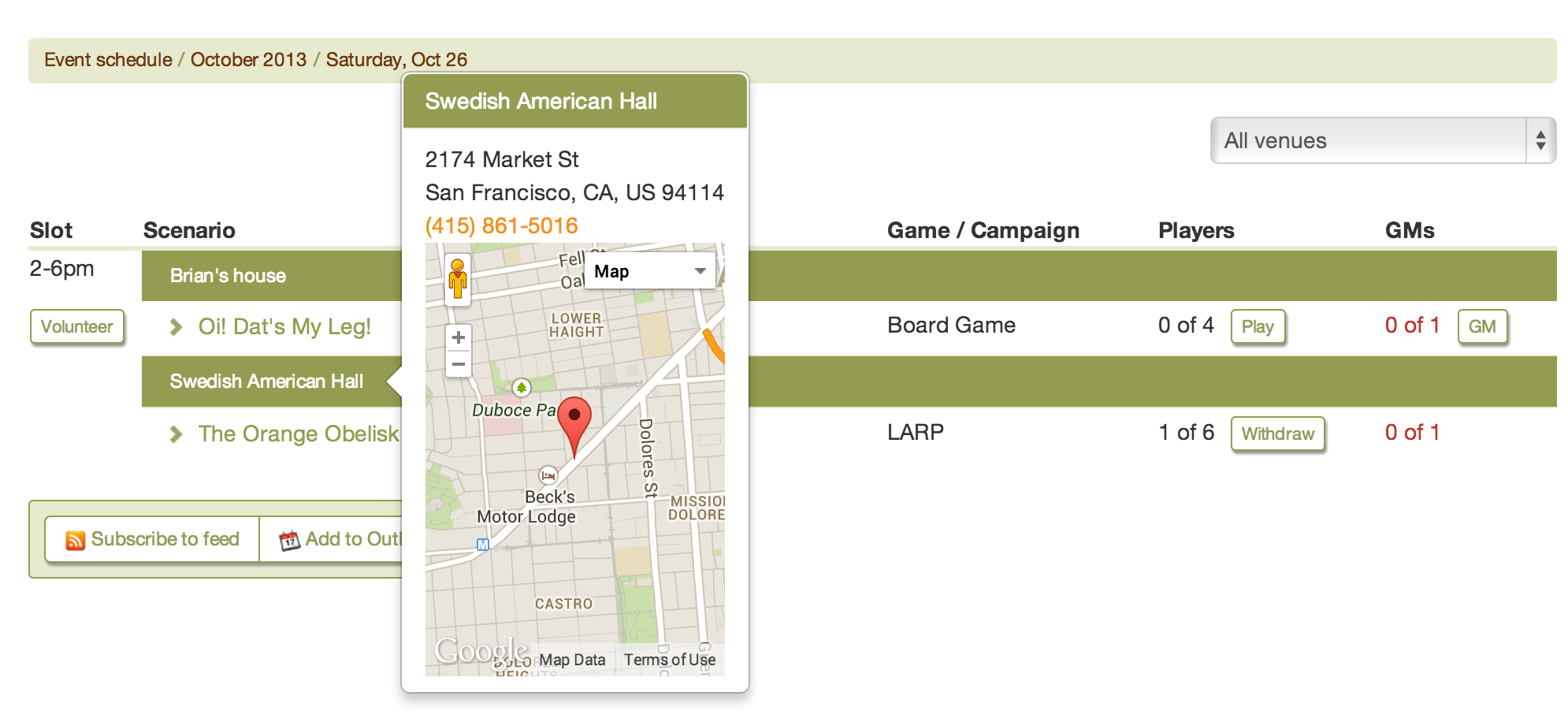 Because venue support has a few different parts we've provided a knowledge base article explaining how to set up venues and use the new schedule features (yup, we've expanded our support site to include a knowledge base; we'll add more articles over time as we build new features and revisit existing ones). We always try to build features that are straightforward and intuitive to use the first time, but this information is here to help in case we missed the mark somewhere.
Venues vs event listings
You might be wondering how venues relate to an event's location in the event listings. The answer is, there's no specific relationship between the two. You have the freedom to specify whatever location you like for the event listings without regard to the geographic location of any venue you might configure.
Take for example the Central Valley PFS event. The event staff specified a location of "Central Valley, CA, US" for the listings but have defined a number of different venues in various cities in the region.
Browsing listings by location
Another improvement you'll notice is that the locations in the event listings look a lot more consistent. That's because we normalized the listing locations to use separate fields for city/region, state/province and country (event staff, see the Event setup > Location page). This improves your ability to browse listings by location because we can more intelligently order the listings now.
Country-specific date formatting
Those of you not in the US will be relieved to see that we've introduced date formatting more appropriate to the event location. For example, the dates for this Australian event are in DMY format rather than the MDY format commonly used in the US (and Belize…?):
Over time we will add more localization features so that users can see event information in ways that are more natural to where they are (such as explicit event timezone support and the ability for users to set date formatting and timezone preferences). We want to reduce confusion and make the site as comfortable as possible.
As always, please don't hesitate to give us feedback or make suggestions about what you'd like to see. There's a "Feedback & Support" link at the top of the page for that very reason. We hope you like the new venues feature and all the other associated changes!